The next Preschool Playtime Session starts May 2, 2012. To watch a Windows Media Video about it, Click Here. To watch a You Tube Video about it, Click Here.
Preschool Playtime: St. Patrick's Day Theme (March 14, 2012)
Meets Wednesday Mornings from 9:15-10AM
Each session of Preschool Playtime has a fun theme which distracts the children enough to not realize all the hard work they are accomplishing with their large muscle, fine motor, and sensory work. Today, our theme was St. Patrick's Day!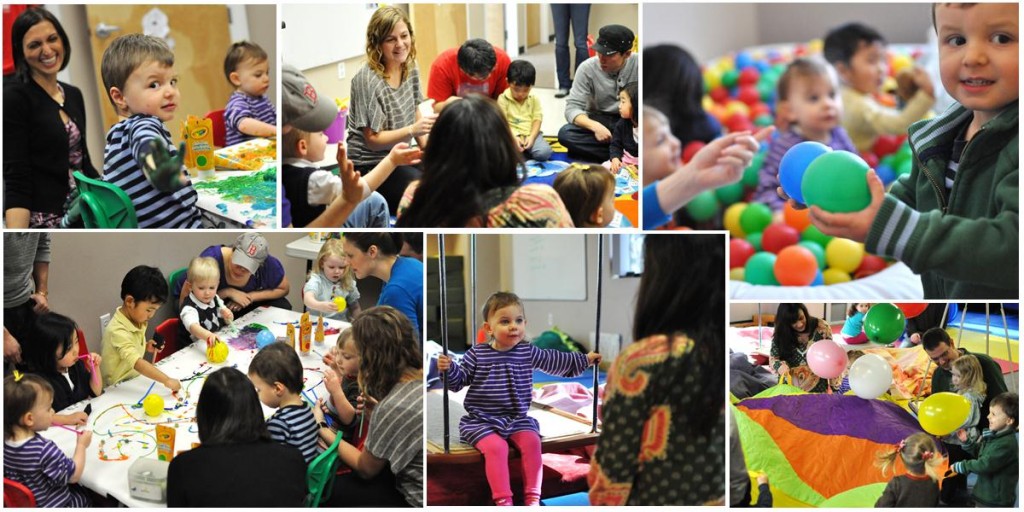 Today we celebrated St. Patrick's Day by playing with leprechauns and shamrocks.
The children organized shamrocks by size from biggest to smallest. Then they followed a shamrock path in the sensory motor room that led them to a leprechaun, hiding gold. Once the children visually scanned to find the hidden leprechaun, the children took a piece of gold to be delivered over the rainbow in the pot of gold.
The children worked on their gross motor skills as they followed the obstacle course to the leprechaun and over the rainbow to the pot of gold. They worked on spatial awareness as they walked through a tunnel and climbed under a bridge made of blocks. The children climbed stairs to the scooter board ramp and went down the ramp on a scooter board working on postural control while receiving vestibular input simultaneously.
Next the children challenged their balance as they walked over unstable foam blocks. Once they found the leprechaun's gold, they took one piece and carried it with them as they climbed a stack of mats and jumped into the clouds (a pile of soft mats). Using their muscles, the children climbed out of the mats, walked over a rainbow bridge and contributed their piece of gold to the pot of gold, just beyond the rainbow.
With a lot of gold to be delivered the children went through the obstacle course again, using their memory to remember the sequence of steps while using the shamrocks as a visual aid to help them find their way if they get lost.
At the table the children used their fine motor skills to create a picture of a rainbow over a pot of gold. The children used a glue stick to glue on a pre-cut pot of gold and small gold coins. They used bilateral integration skills to glue objects and place them on the paper. Using a pincer grasp the children picked up small gold coins and sprinkled glitter over them. To make the rainbow, the children used colored pasta. They worked on sequencing the colors appropriately to make a rainbow.
Once their pictures were done, the children found treasures in green thera-putty, strengthening their hand and finger muscles as they pulled the thera-putty apart to find objects and molded the putty into a ball.