Preschool Playtime: Construction Theme: May 2, 2012
To watch a Windows Media Video about Preschool Playtime, Click Here. To watch a YouTube Video version, Click Here.
Each session of Preschool Playtime has a fun theme which distracts the children enough to not realize all the hard work they are accomplishing with their large muscle, fine motor, and sensory work.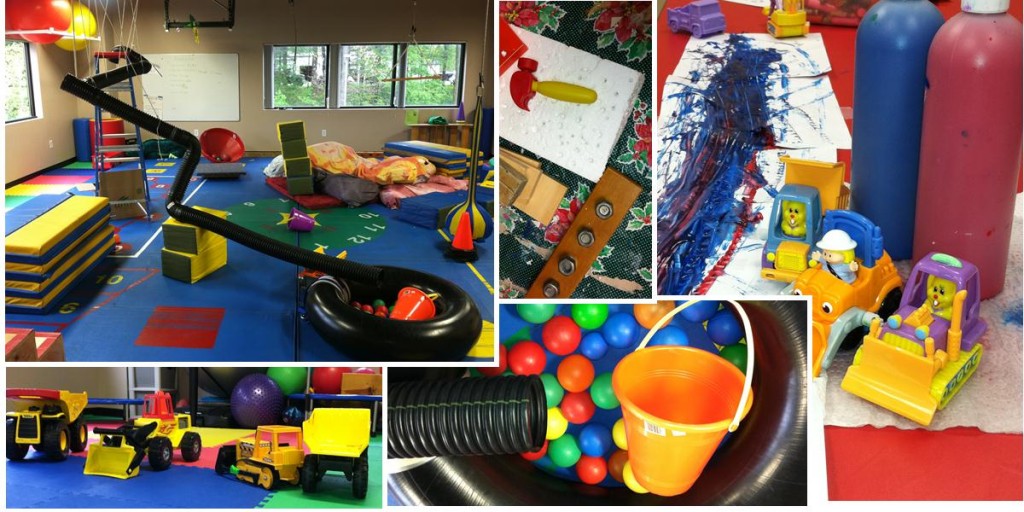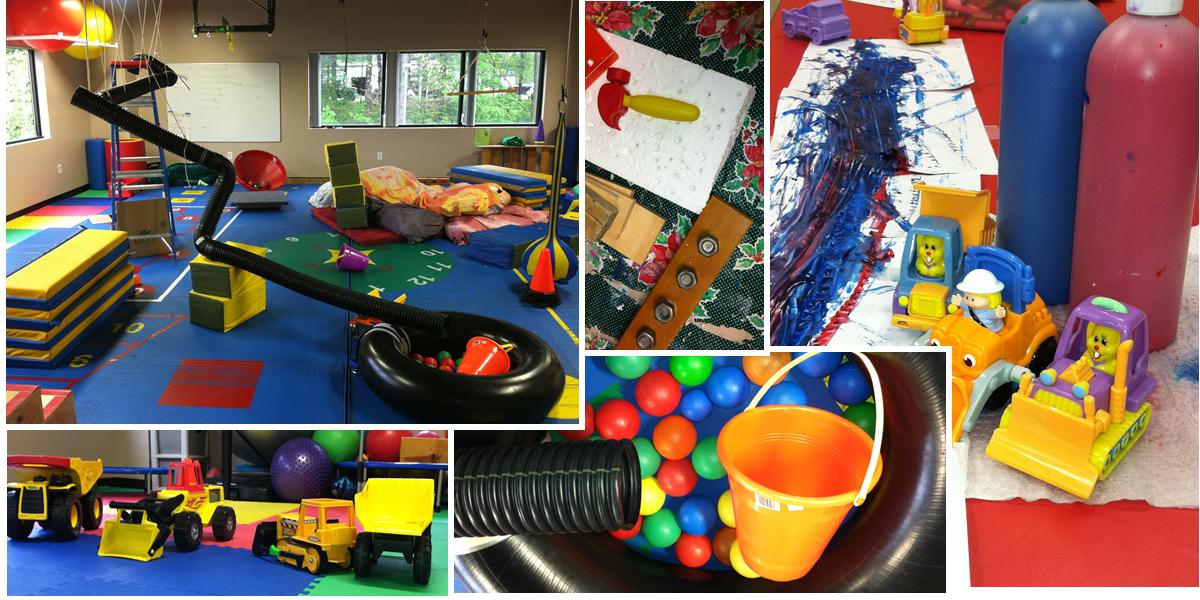 Today was the first day of this session!  We joined in the fine motor room to greet our returning friends and welcome our new ones with a construction theme and a hello song!  To familiarize the children to the theme, our circle time was spent reading a short story about construction.
Using my recorder as a musical transition, we brought the children into the sensory gym which was set up as a construction site with lots of tubing, building materials and obstacles to maneuver through.
The children became construction workers by filling dump trucks with the rocks (weighted balls – wonderful for proprioceptive input in their upper extremities) and "driving them" through the obstacle course.  At the end of the course, they had to dump the rocks into the construction site.  The rocks from the site then needed to be carried up the ladder (motor planning, strength, and balance) to be dumped into the machine (tubing) where the children were able to use their auditory senses to listen to them roll down.
Once the rocks where sent down the pipes, it was time to build a tower out of bricks (foam blocks)!
Next, the children used the trapeze to swing into and knock down the towers!  This was great work on their upper strength (hanging on) and their motor planning of how to figure out how to gain momentum and direction to actually knock down the blocks.
After lots of active gross motor play, we transitioned back to the fine motor room to continue construction activities.  The children hammered nails into Styrofoam using bi-lateral integration (working with two hands together).  They rolled trucks over paint on paper to make truck tracks, and also to have tactile input and messy play.  They washed their hands at the end of play to clean up and work on daily living skills.
HOME PROGRAM IDEA:
To continue construction fun at home, spray shaving cream on a cookie sheet that has been covered with aluminum foil.  Driving washable trucks through the cream continues work on tactile input, motor planning and exploring senses. Cleaning the trucks with water afterwards is also part of the fun!