As parents, we have all had our mealtime battles with children. We introduce healthy foods. We coax, we season, we may even disguise foods that we haven't had success with in an attempt to get them into growing bodies.
For some children, mealtime food avoidance is more than a stubborn protest, it's a true issue. Some people have sensory and/or motor issues that make eating very difficult for them. It is important to identify the best way to help these children so that they can get all the nourishment they need.
A feeding therapy assessment can help to identify concerns and make a plan for how to address them.
Barrett Family Wellness Center uses a cooperative feeding team approach for our program. Each child has the benefit of being assessed by an occupational and speech therapist. The assessment is done by Phyllis, our owner, who is an occupational therapist and certified sensory integration and sequential oral sensory specialist AND Annie, who is a speech and language pathologist specialized in feeding and swallowing difficulties.
Phyllis observes with a sensory and dining perspective. Is the issue the texture? The color? Is it the smell or the taste of the food? How does the child interact with food put on their plate? Can they look at it? Touch it? Can they put it in their mouth?
Annie looks at how the child eats. Are they keeping it in their mouth? Are the swallowing it? When do they swallow it? Do they have trouble? Are they coughing? Are they choking? Is their throat wet?
Both Phyllis and Annie look at what the child does with the food once it gets into their mouth. They observe how they chew and use their tongue.
If you are interested in learning more about Barrett's feeding program, please join us for a FREE feeding therapy workshop on Tuesday, October 30th, from 6:30-8:30 pm at Barrett, 107 Otis Street in Northborough, MA.
The workshop is free, but we ask that you call to pre-register for planning purposes by calling 508-898-2688.
This workshop may be just what you need to help YOU help your child be a better eater.
FREE Workshop at Barrett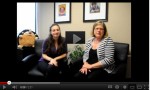 Presented by:
Phyllis Barrett Samara, OTR/L, SI Therapist and SOS Specialist, Owner
Annie Alexopoulus, M.S., C.C.C., Speech and Language Pathologist