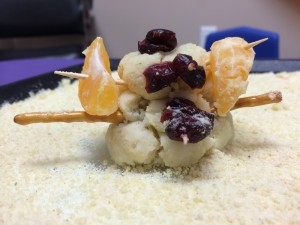 Your Mother may have told you not to play with your food; however, food play can actually bring about a wonderful relationship with food.
This week at Barrett our feeding clients are making potato snowman. Why not try it at home? Just use dry potato for the snow on the ground and wet potato (add water) for the creation of the snowman. You can add on any other foods you like to decorate.
Our snowman, pictured here, was made by a client who wanted to work with pretzel sticks, craisins and clementines.