Swing by for fun sensory stations known to stimulate both occupational and speech learning in preschool aged children.  We will be squishing shaving cream, searching for treasures in rice and beans, fishing from our rocking board dock, crawling through tunnels, and doing an apple craft! While playing, we will be working on articulation and vocabulary without the children even realizing how hard they are working.
Upcoming: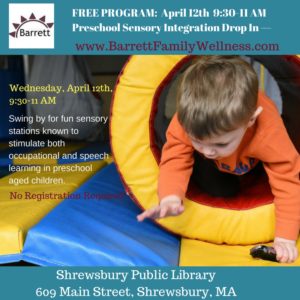 Wednesday, April 12th from 9:30 – 11 AM at the Shrewsbury Public Library at 609 Main Street in Shrewsbury.  No registration required.
Past Library Visits:
Northborough Free Library, Thursday, October 27, 2016, 9:30-11am More Info
Northborough Free Library, Tuesday, October 27, 2015, 9:30-11am
Northborough Free Library, Wednesday, November 19, 2014, 9:30-11am
Northborough Free Library, Thursday, April 17, 2014, 9:30-11am
Beaman Memorial Public Library, West Boylston, Tuesday, October 8, 2013, 10-11:30am
Shrewsbury Public Library, Friday, May 31, 2013 10-11:30am
Westborough Free Library, Friday, June 14, 2013 10-11:30am
Northborough Free Library, Wednesday, June 19, 2013 10-11:30am
These drop in sessions are being staffed by pediatric occupational and speech therapists (as well as graduate students studying to become therapists) from Northborough's Barrett Family Wellness Center (www.barrettfamilywellness.com) who's mission of treating children extends into educating families, and the communities, to home programs and things that can be done each day to help children grow to their best potential.
*Sensory Integration, in simplest terms, is our body's ability to take in and process sensory information (smells, sights, sounds, etc.) and produce an appropriate response to the information received.