Become a Social Detective
BARRETT'S SOCIAL GROUPS: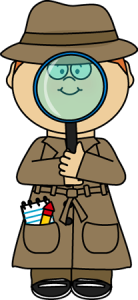 Utilizing Social Thinking® Interventions and Strategies
Based on Michelle Garcia Winner's Social Thinking® Curriculum.
The Fall social groups are currently running for 8 weeks on Saturdays from October 17 – December 12, 2015.
(No groups on 11/28)
We are looking for those who are interested in the winter and spring sessions! (Your child must be verbal to attend our social groups.)
Winter Session will run Saturdays, January 9, 2016 – March 12, 2016 (no groups 2/13 and 2/20)
Spring Session will run Saturdays, April 2, 2016 – June 11, 2016 (no groups 4/16, 4/23 amd 5/28)
For more information, please fill out the form below and we will contact you.