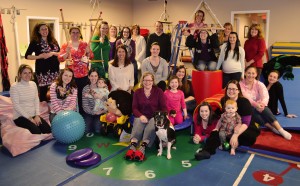 Barrett Family Wellness Center is looking for a full time Speech Therapist to fill our growing client base. We are looking for a candidate who is independent, loves to play, and wants to work in a collaborative, therapeutic environment.
The schedule will include two half days (afternoons), two full days and Saturday mornings (8am – 1:30pm), for a total of 30 hours.
Responsibilities:
* Conduct formal and informal pediatric speech and language assessments for a variety of diagnoses
* Design and provide 1:1 highly-skilled therapy for children presenting with a range of needs including, but not limited to: Autism, articulation and phonological disorders, stuttering, language delays, genetic conditions and other cognitive delays impacting speech and language development
* Serve as a mentor to graduate-level speech and language students
Highlights:
* Friendly and collaborative work environment
* Multi-disciplinary and client-centered treatment approach
* Numerous resources and materials at your disposal including an 800 sq. ft. sensory gym, state of the art fine motor materials, calming sensory room and many other amenities.
* Spacious and well-maintained treatment areas
Requirements:
* Be currently licensed and registered as a Speech Language Pathologist in Massachusetts
* Have recent pediatric experience
* Be able and willing to work afternoons and Saturdays until the specified closing time
Barrett Family Wellness Center is a community-based and community-focused multi-disciplinary clinic dedicated to enhancing the health and wellness of children. We currently offer Occupational Therapy and Speech and Language Services for children and young adults of all ages. We were founded as an OT center with the primary objective of treating children with Sensory Processing Disorder (SPD) and serving as a resource for families who live with the disorder. We began offering speech and language services in 2009. In addition to those with SPD, we also treat a full spectrum of clients with varied conditions from Autism Spectrum Disorders, Attention Deficit Hyperactive Disorder, Nonverbal Learning Disability, developmental delays, and more. Our facility is located in Northborough, MA.
To apply for this position, please forward your cover letter and resume to hr@barrettfamilywellness.com. Join a great team of dedicated professionals at Barrett Family Wellness Center!